Reading
Our Vision
At St. Gregory's we create "life-long learners."
Intent
This begins with our English Curriculum. We want our pupils to become confident readers who read for pleasure. We strive that all our pupils have a love of language and are confident public speakers. Furthermore, we endeavour to develop the "writer's voice "within every pupil across all abilities and experiences. We have worked hard to provide our children with rich and varied learning opportunities that help them to become confident and enthusiastic learners. We want our children to have a positive attitude towards communication and to be able to independently express their emotions and their ideas. Through our English Curriculum, we strive to teach the children how important their reading, writing, speaking and listening skills will be in the real world. Our curriculum develops key life skills which ensures, confidence, independence and resilience.
Implementation
Foundation Stage 1
At the earliest stage, children are exposed to stories, rhymes and picture books which will ignite their interest and enjoyment of reading for pleasure. Under the direction of the class teacher, children are introduced to phonics at the earliest opportunity, through daily, structured activities through a range of interesting and lively activities. Pupil progress is assessed and monitored through small group activities delivered by experienced, trained early years practitioners. The teaching of phonics, as the sole route to decoding, remains a fundamental strategy to enable pupils to decode unfamiliar words. Sight word vocabulary and key words are introduced within a language enriched environment so that children are exposed to common, familiar words which they encounter in everyday life. Children's progress is continually assessed and reviewed so that each child is grouped and taught at the appropriate phonics phase. Phonic books may be sent home at the discretion of the class teacher, once children are ready to practise at home. In addition, story and picture books are also sent home to develop children's interest and enjoyment of reading.
Foundation Stage 2
As children's interest and fluency develops, reading materials are sent home to nurture children's enjoyment and develop reading fluency. Systematic teaching of phonics continues on a daily basis in Foundation 2. Children are taught according to their phonics stage of learning.
Key Stage 1
In year 1, children will be encouraged to develop a keen interest in reading and be confident in their attempts to decode new or unfamiliar words to become more fluent. By the end of the year, all pupils will complete a national, statutory phonics screening which will be formally recorded and reported to parents. The use of sight word vocabulary will be expanded for pupils who are secure in their knowledge of decoding, with a further emphasis on independent reading interests and choices. Children are expected to practise daily so that they develop fluency and expression when reading aloud.
In year 2, children are involved in the ' Accelerated Reading' programme which continues until the end of year 6. This initiative is used to foster an interest in enjoyment of reading for pleasure. Children are expected to complete a 'quiz' when completing a story, and gain points which are recorded. The use of rewards for 'Reader Achiever' provides further incentive for independent reading. Daily phonics sessions continue for all children who have not achieved the expected level in year 1, under the direction of the class teacher, or specialist staff. Parents will be kept informed through regular reports from the class teacher. By the end of year 2, all children are expected to be competent in phonics.
In addition to the daily phonic session, all children are taught reading skills by the class teacher during planned, weekly guided reading sessions. These will focus on reading comprehension skills, reading for information and research skills. In addition, teaching support assistants, or trained adult volunteers, will listen to individual readers over the course of the week, with an aim to ensure every child reads with an adult at home or at school every day.
Key Stage 2
The strong emphasis on learning to read remains the premise for reading to learn. Weekly guided reading activities are planned and differentiated for small groups under the direction of the class teacher. Additional activities are planned, including reading comprehension, research and the teaching of higher- order reading skills. Teaching support staff will be deployed by the class teacher to support individuals requiring additional support, or small groups. Support staff are expected to sign the diary when listening to children read. All pupils are expected to read daily, at home, to practise and reinforce their reading skills, pace and fluency.
Reading Enrichment Activities
The promotion of reading for enjoyment and learning is expected to be a continuous process for every child, in every year group. Many enrichment opportunities take place within school including:
Longton Library
Many of our children told us that they were not members of the library and so we took the opportunity to arrange visits for children in Years 3 - 6 to visit Longton Library.
During the visits, children received a tour of the library and a talk from one of the librarians who explained the services on offer. Children in Years 4-6 also heard about the exciting 'Great Reading Adventure' and many children have returned to school eager to take part! All children were automatically enrolled in the library and received their own library cards enabling them to borrow books. The visits have created a real buzz around reading and it is great to see children accessing such a valuable service in the community.
'I can't believe we can take books home for free!' (Year 3 child)
'There are so many books here that I haven't read yet!' (Year 5 child)
'I can't wait to start the Great Reading Adventure!' (Year 4 child)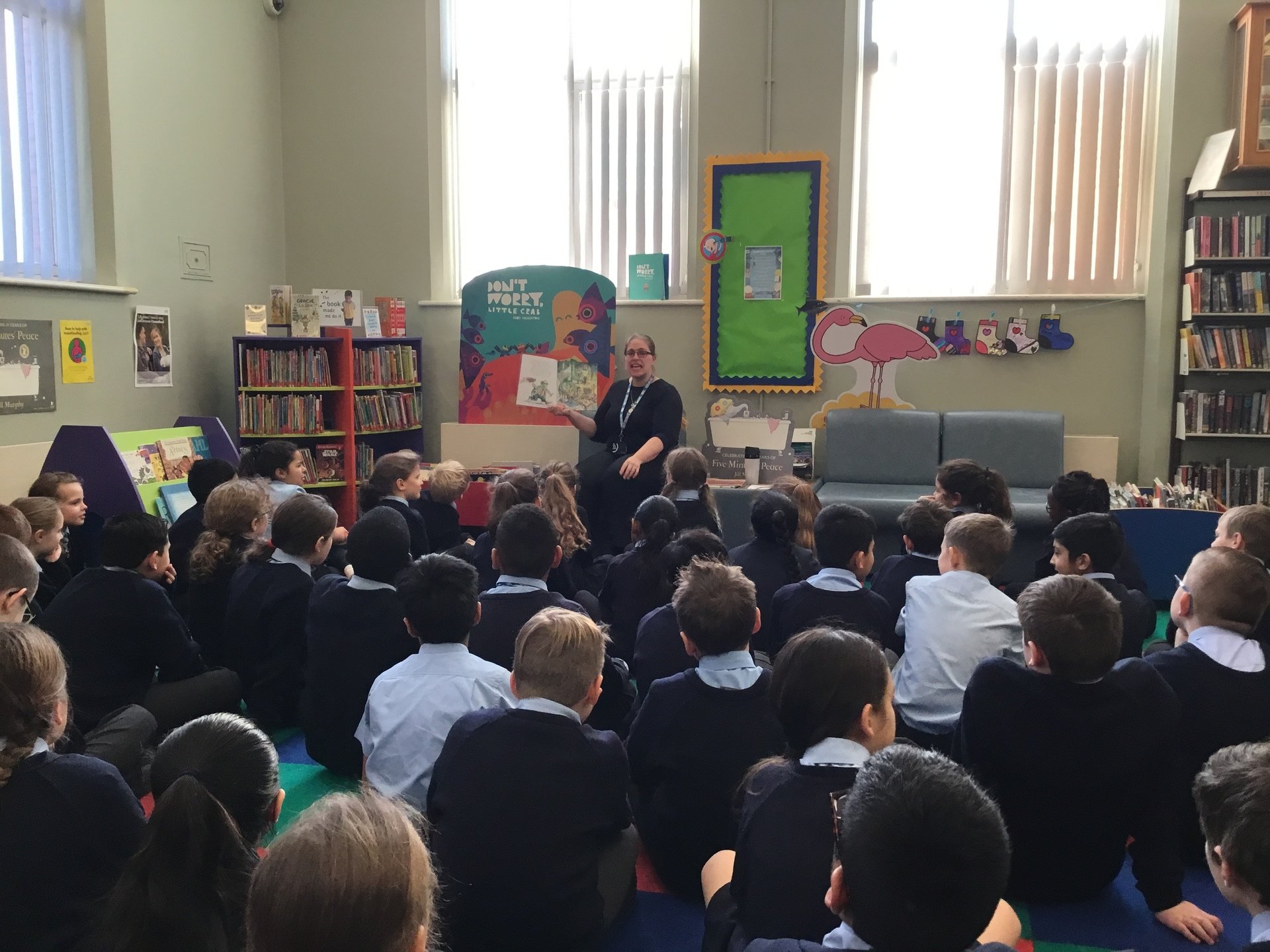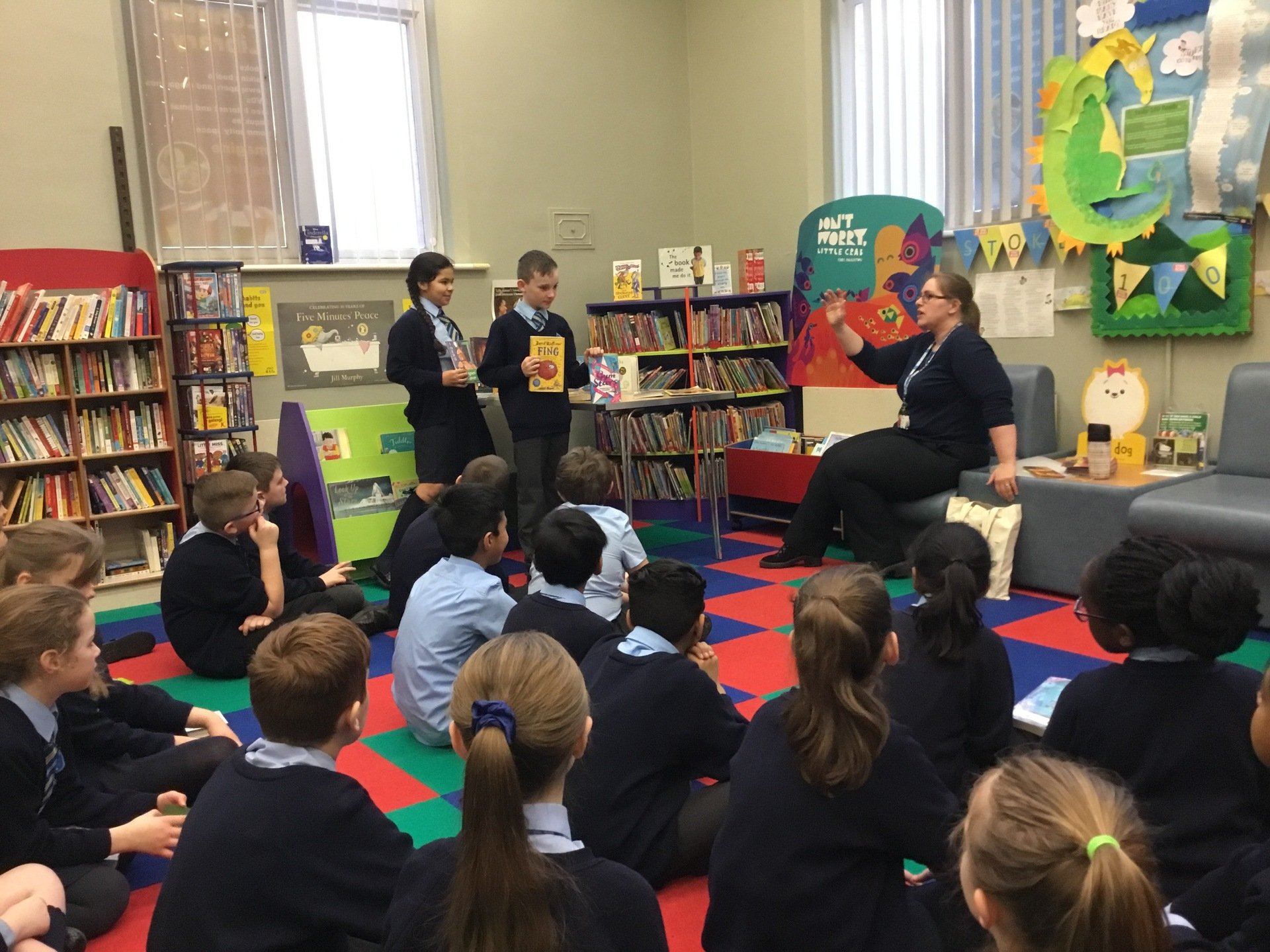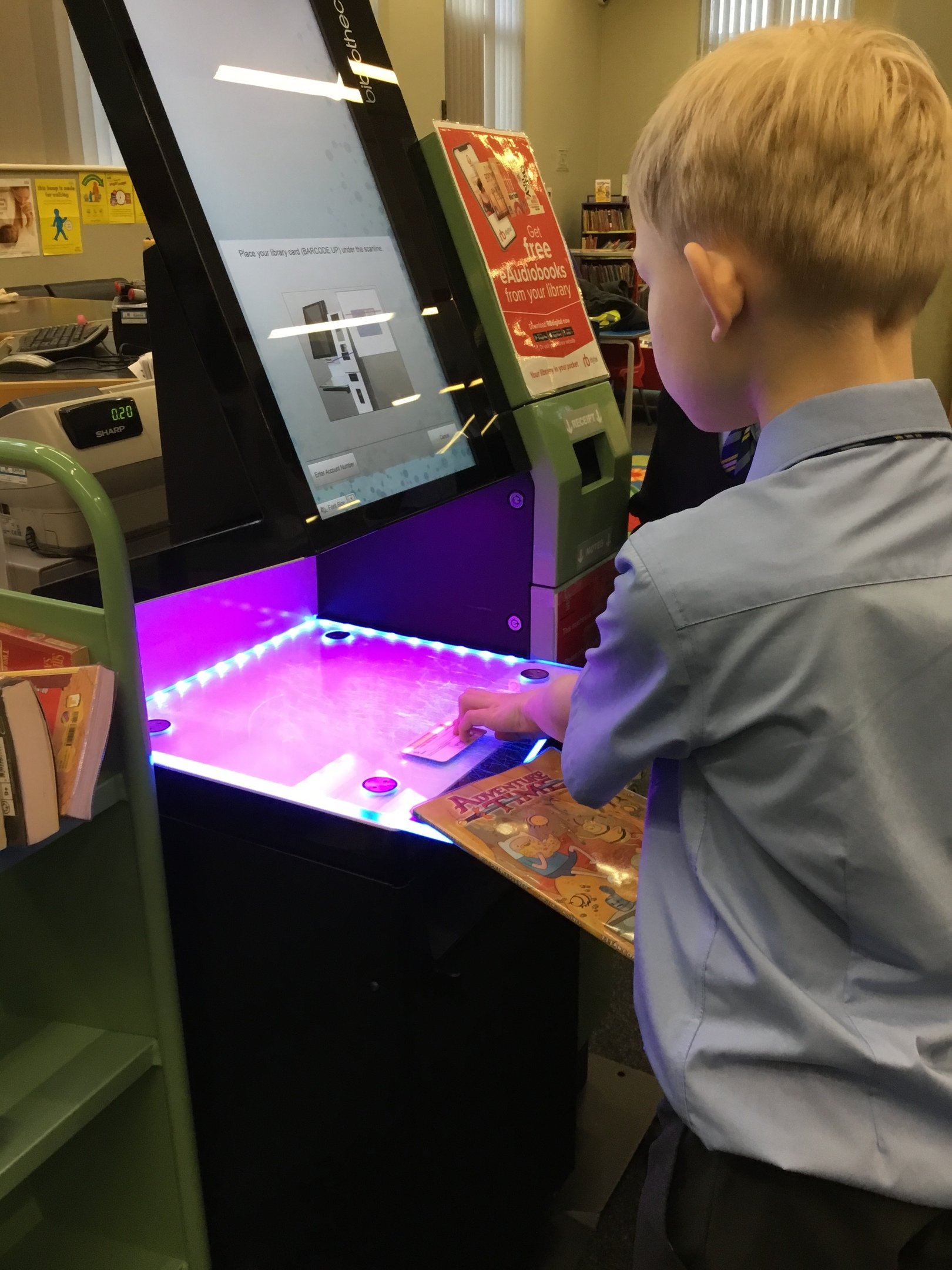 Author Workshop
Due to our fabulous links with the local library, Year 5 were invited to take part in a workshop with the author Jamie Smith. Children found out the process undertaken by Jamie when planning and writing his stories and were able to ask Jamie questions about what life is like as an author. For taking part in the workshop the library kindly presented us with some free books to put in our school library!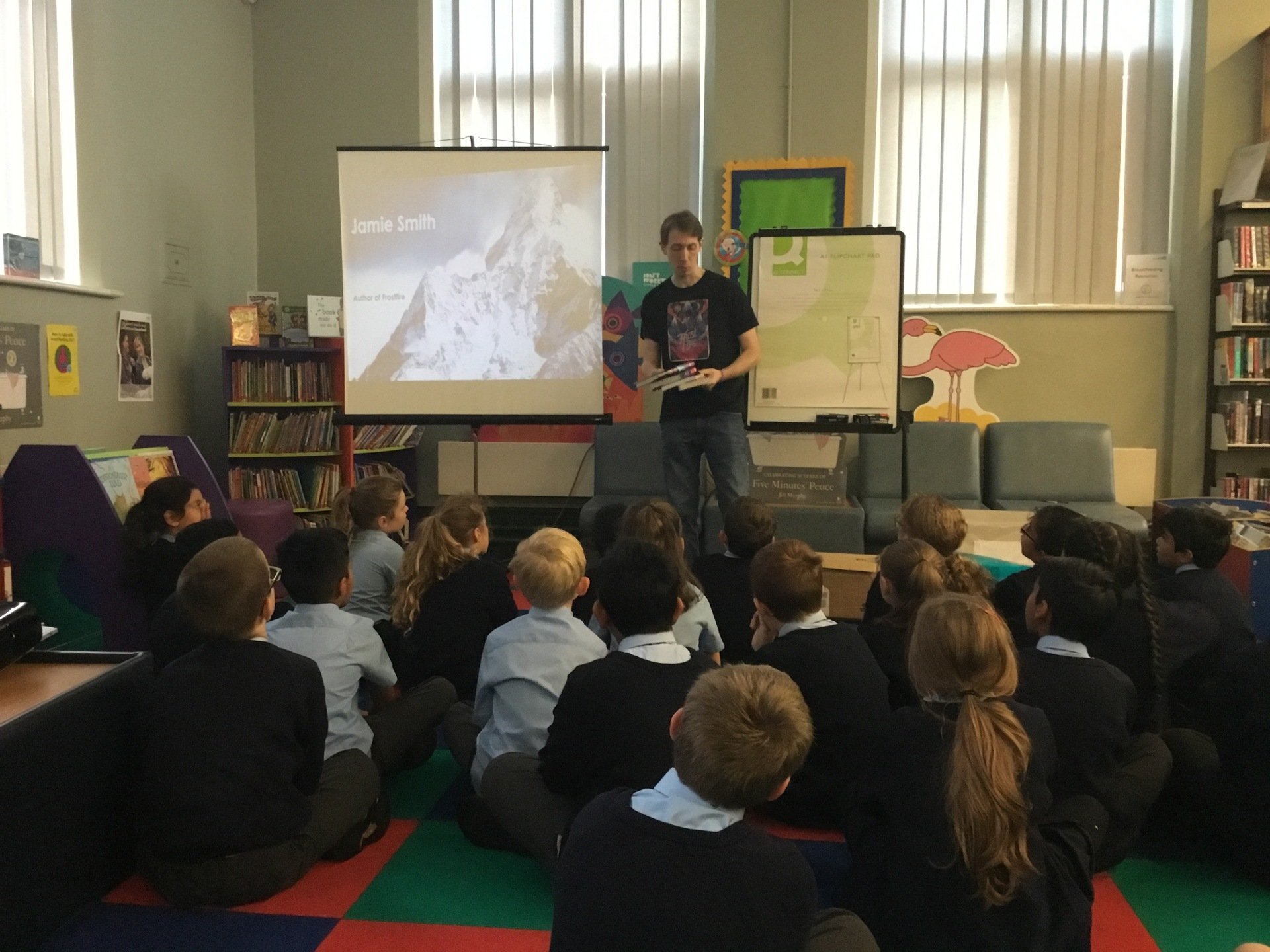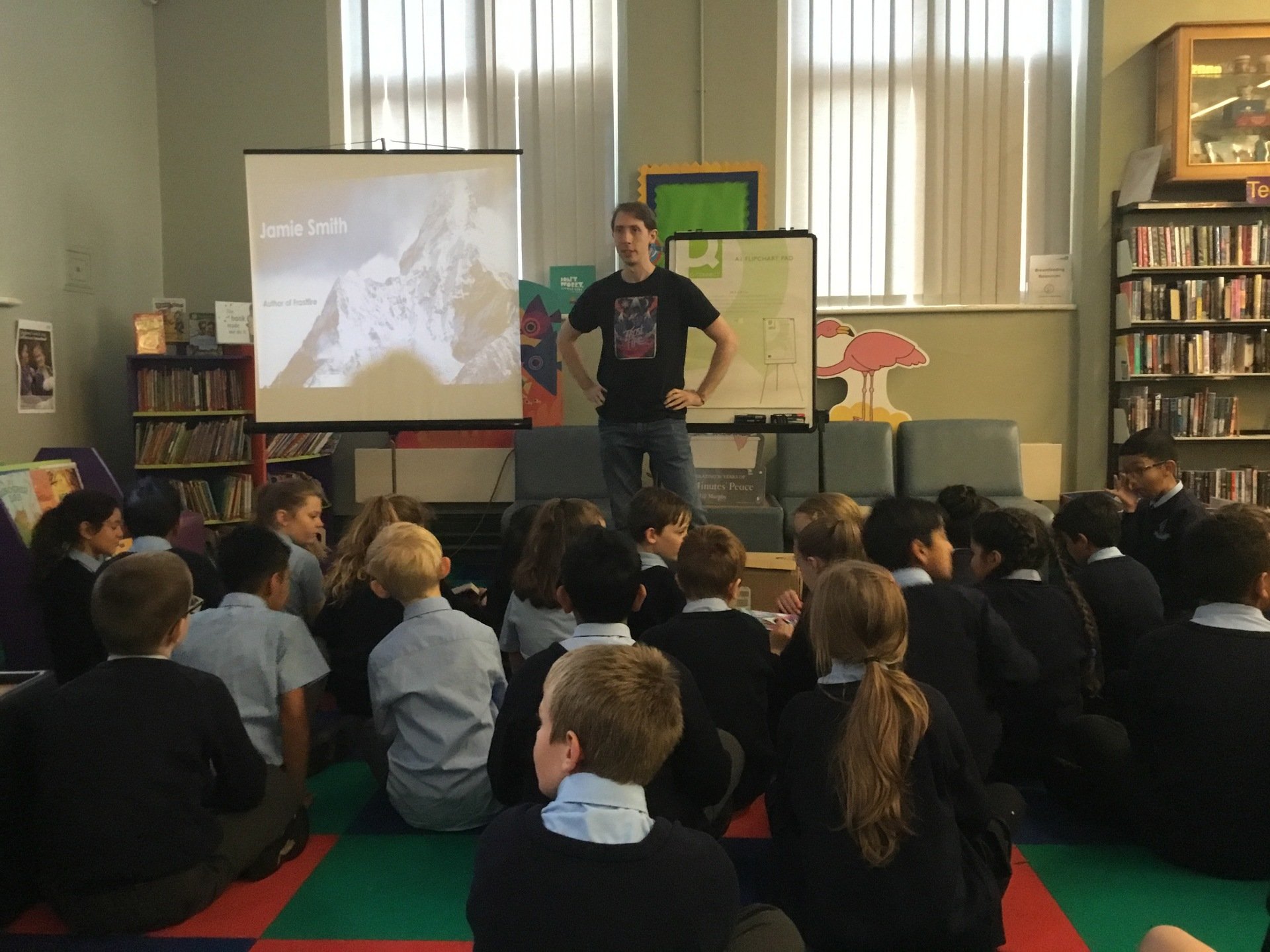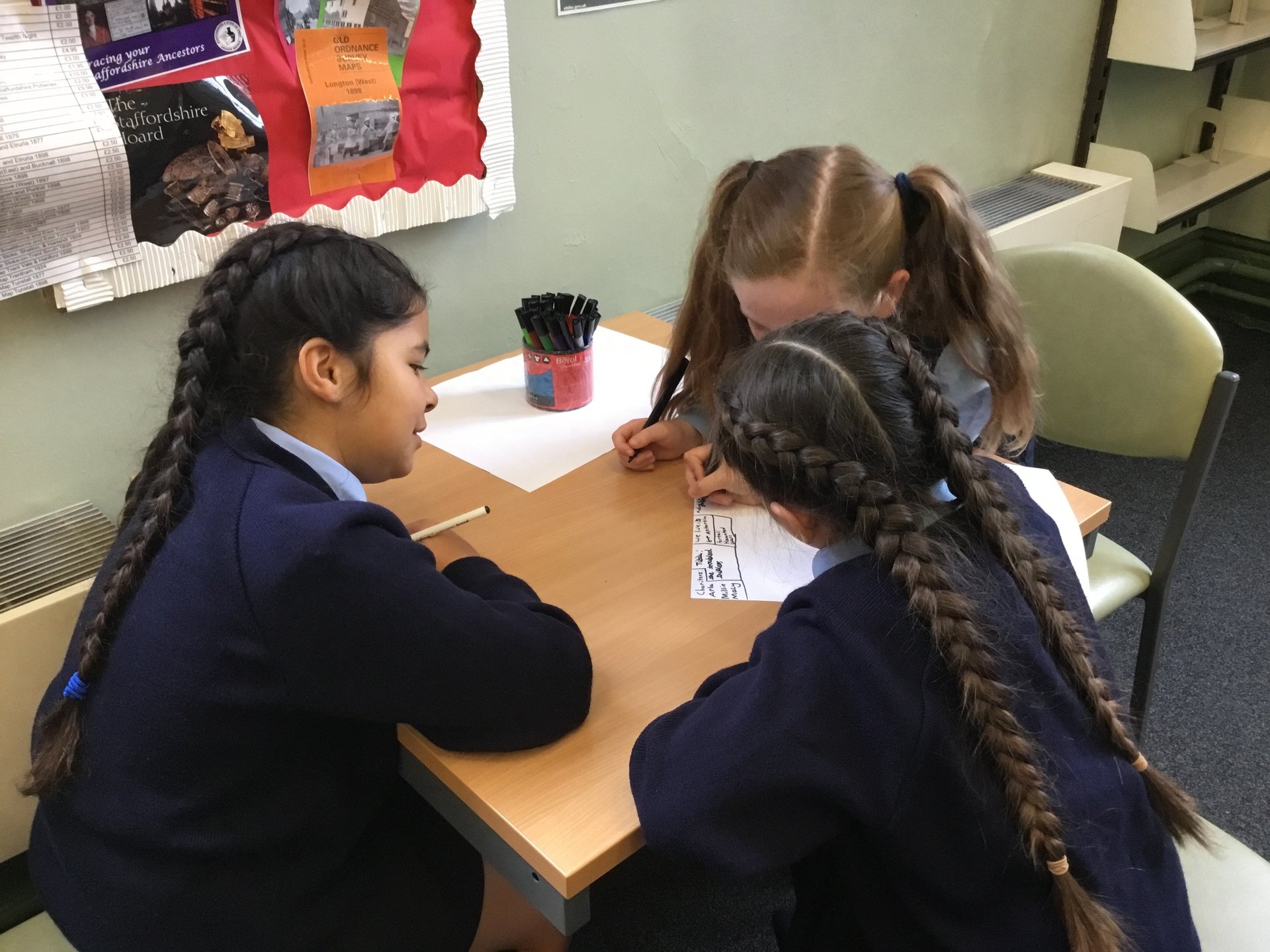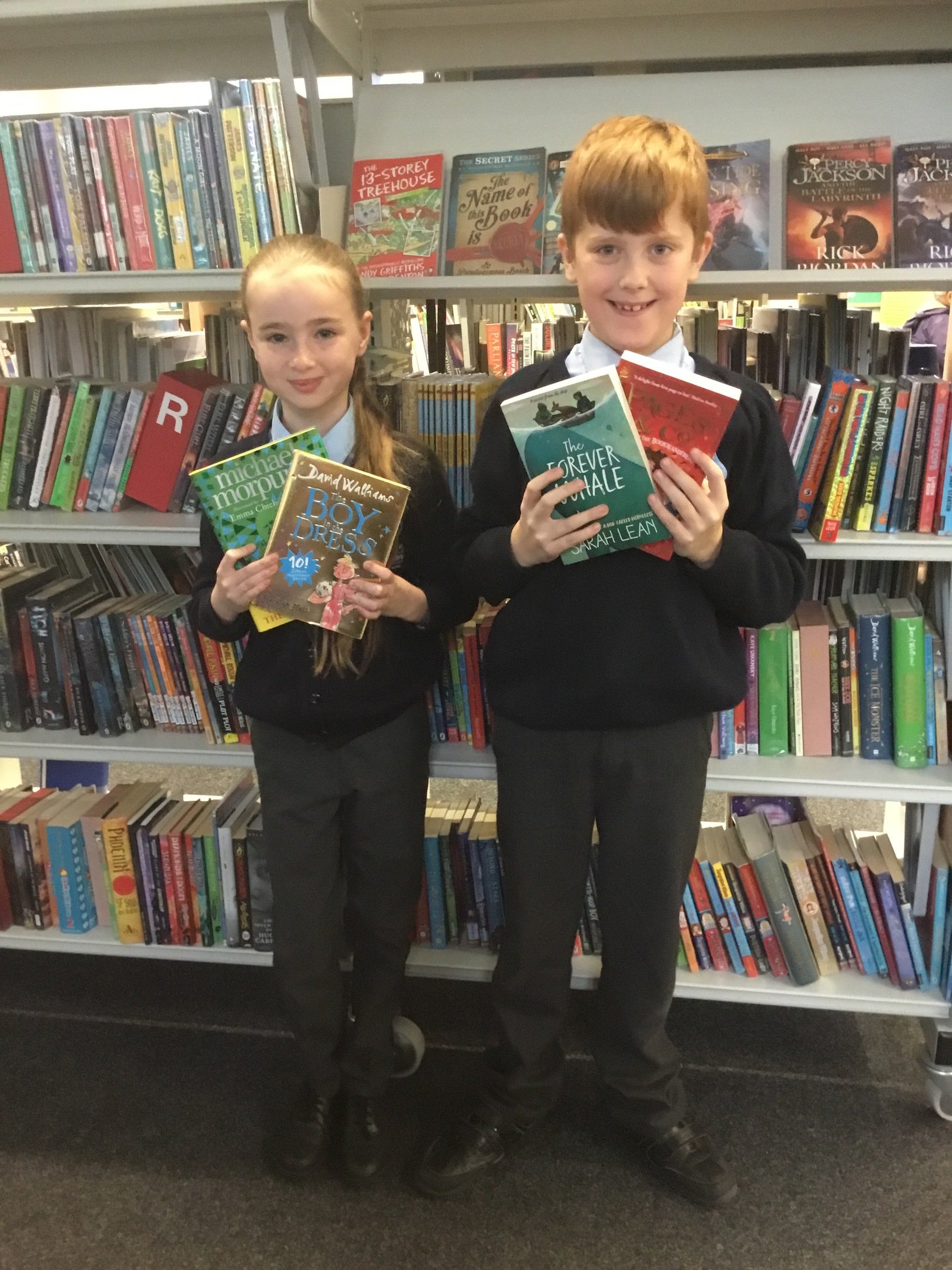 Peer Reading
A selection of pupils from key Stage 2 support reading in Key Stage 1 on a regular basis. During this session, they share their love of reading with the Key Stage 1 children, listen to them read to improve fluency and help them to choose books from the library that they will enjoy.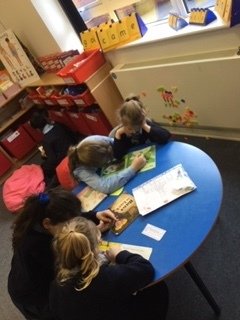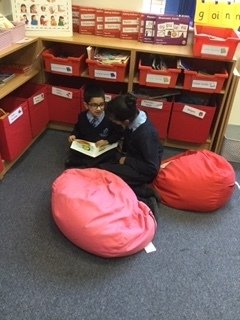 World Book Day
World Book Day is a fabulous event for the whole school to come together to celebrate their love of reading. This year many events took place throughout school including: both children and staff dressing up as their favourite book character, reading assembly held by Mrs Riddell, book mark designing competition, peer reading and teachers even swapped classes to read to children in a different key stage!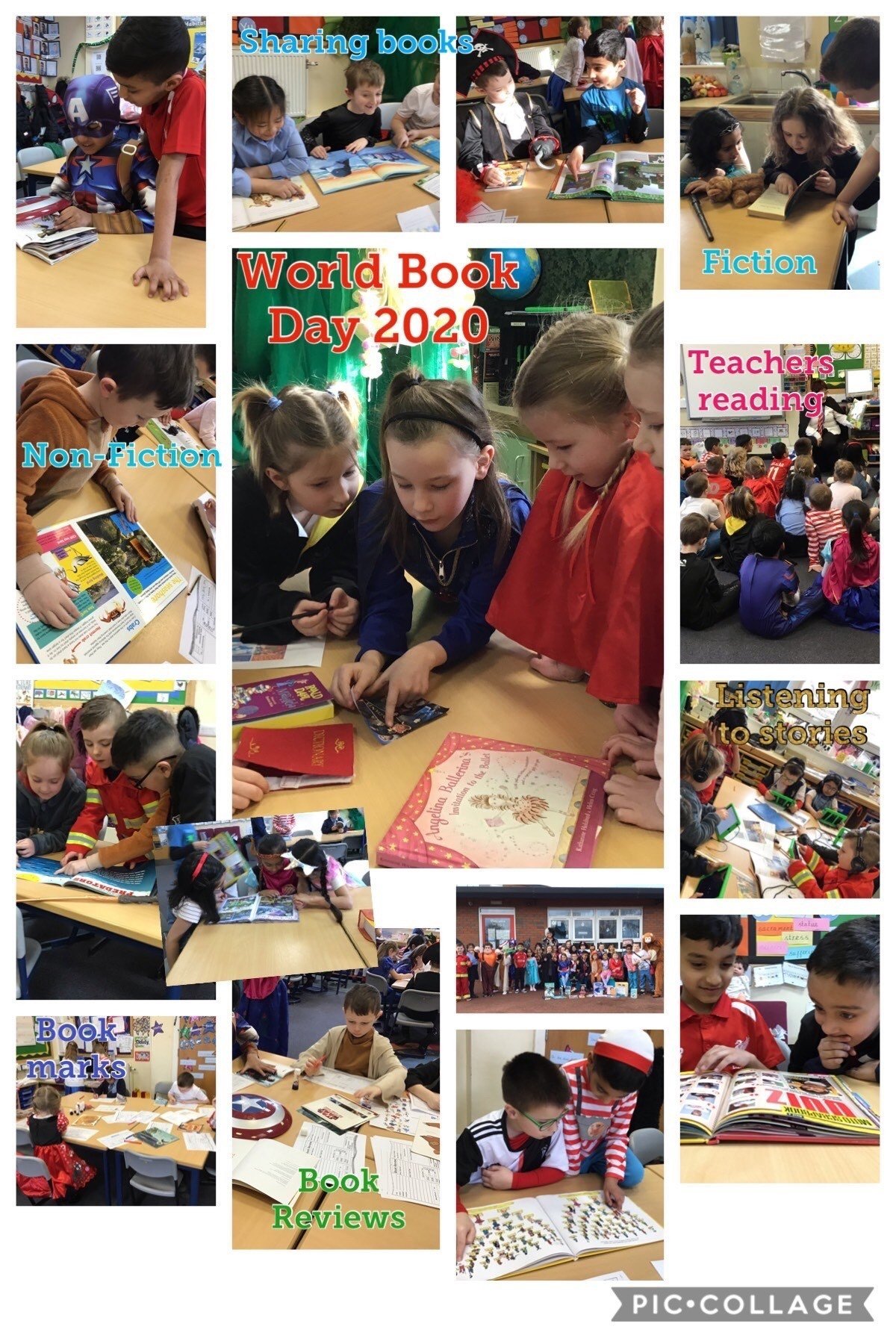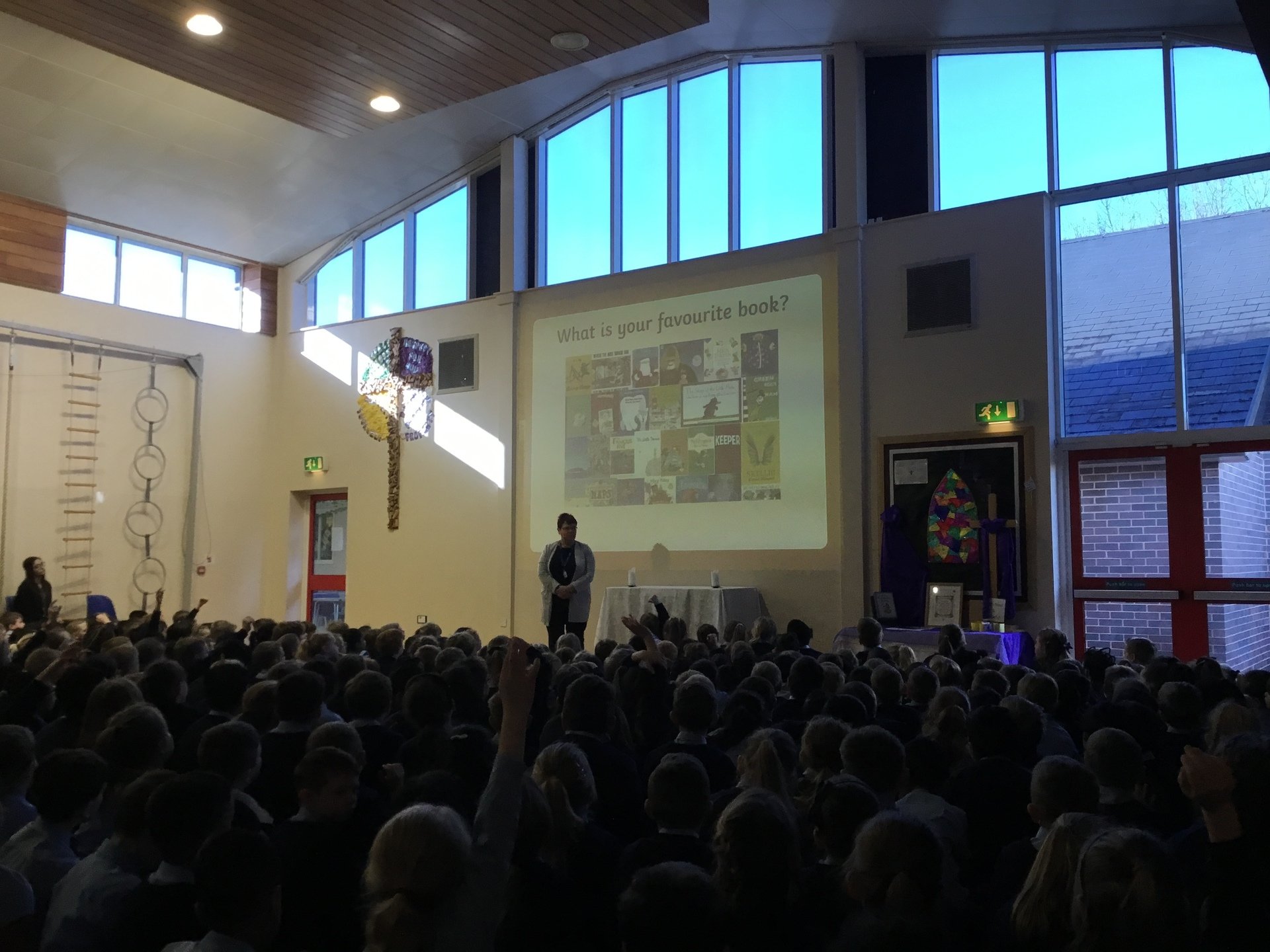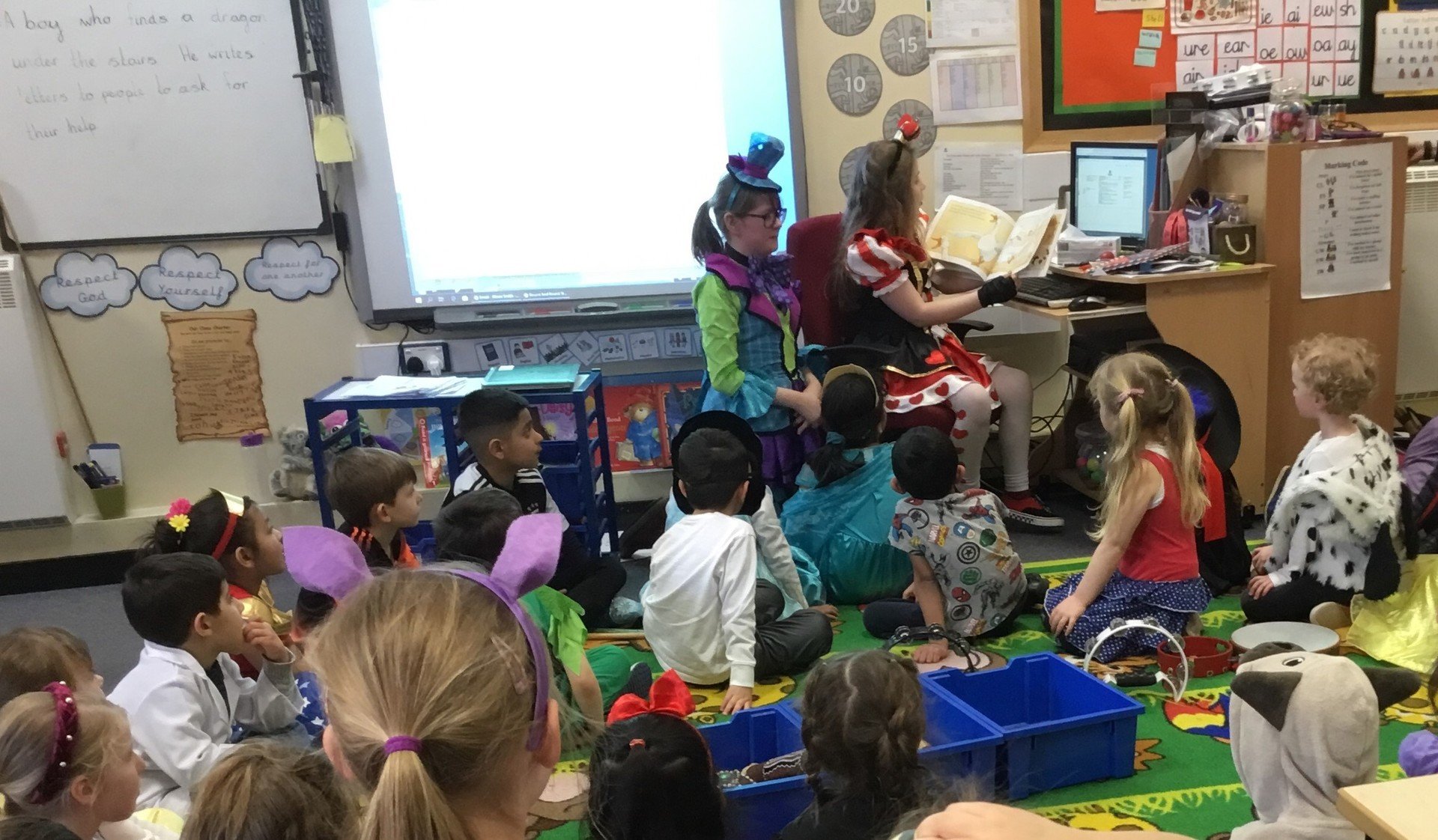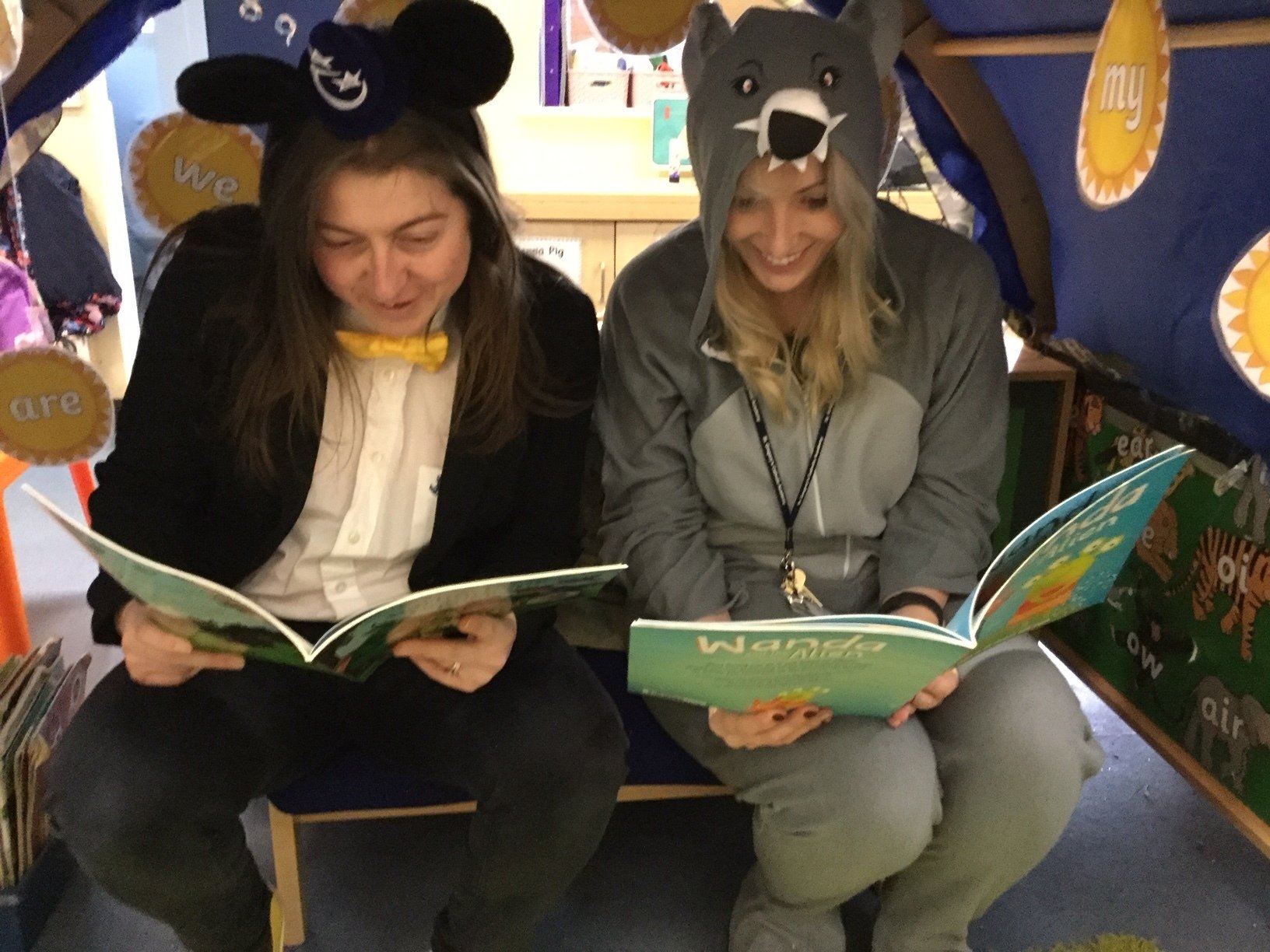 Book Reviews
Unsure what book to read? Have a look at some of our book reviews below: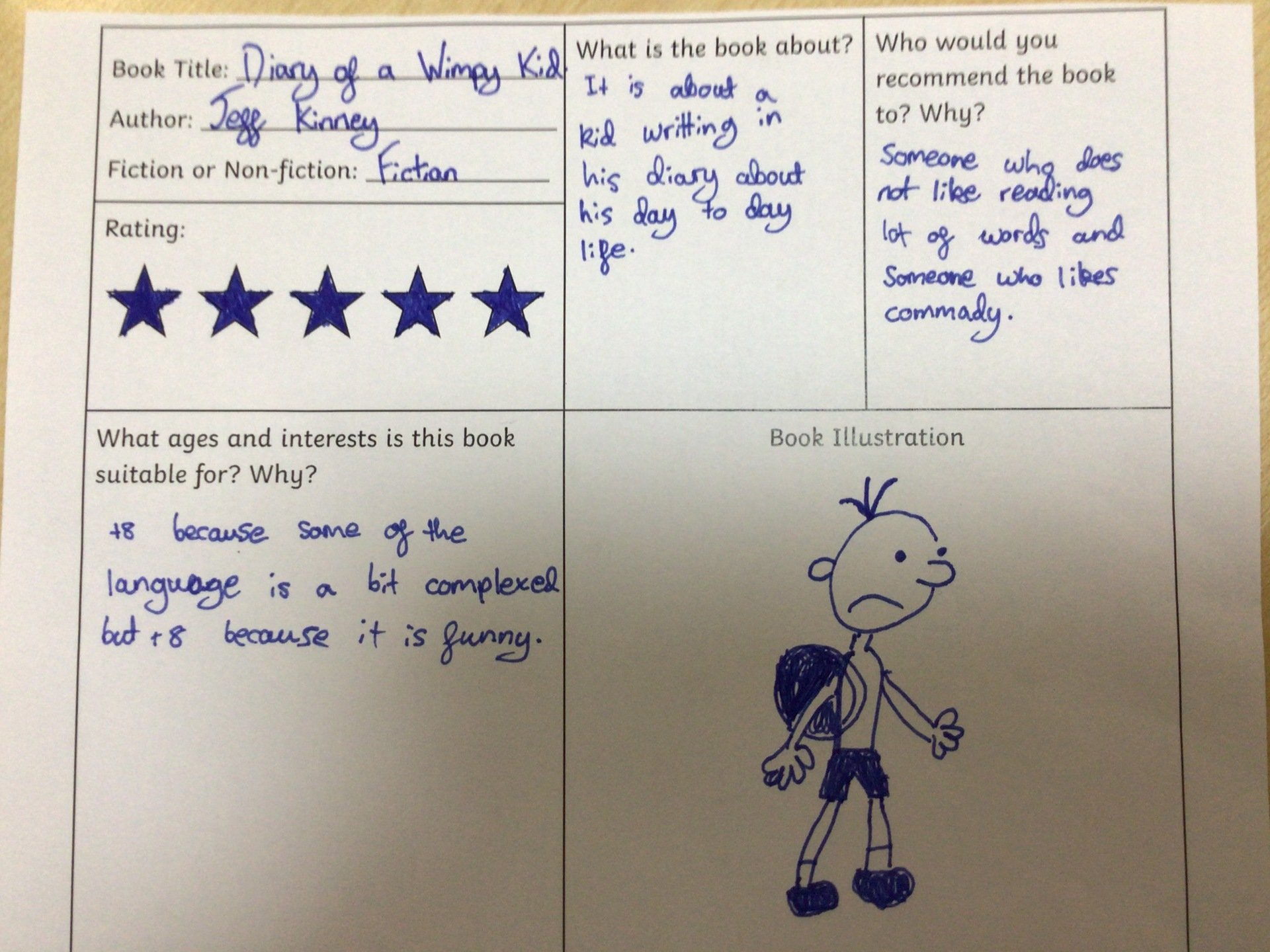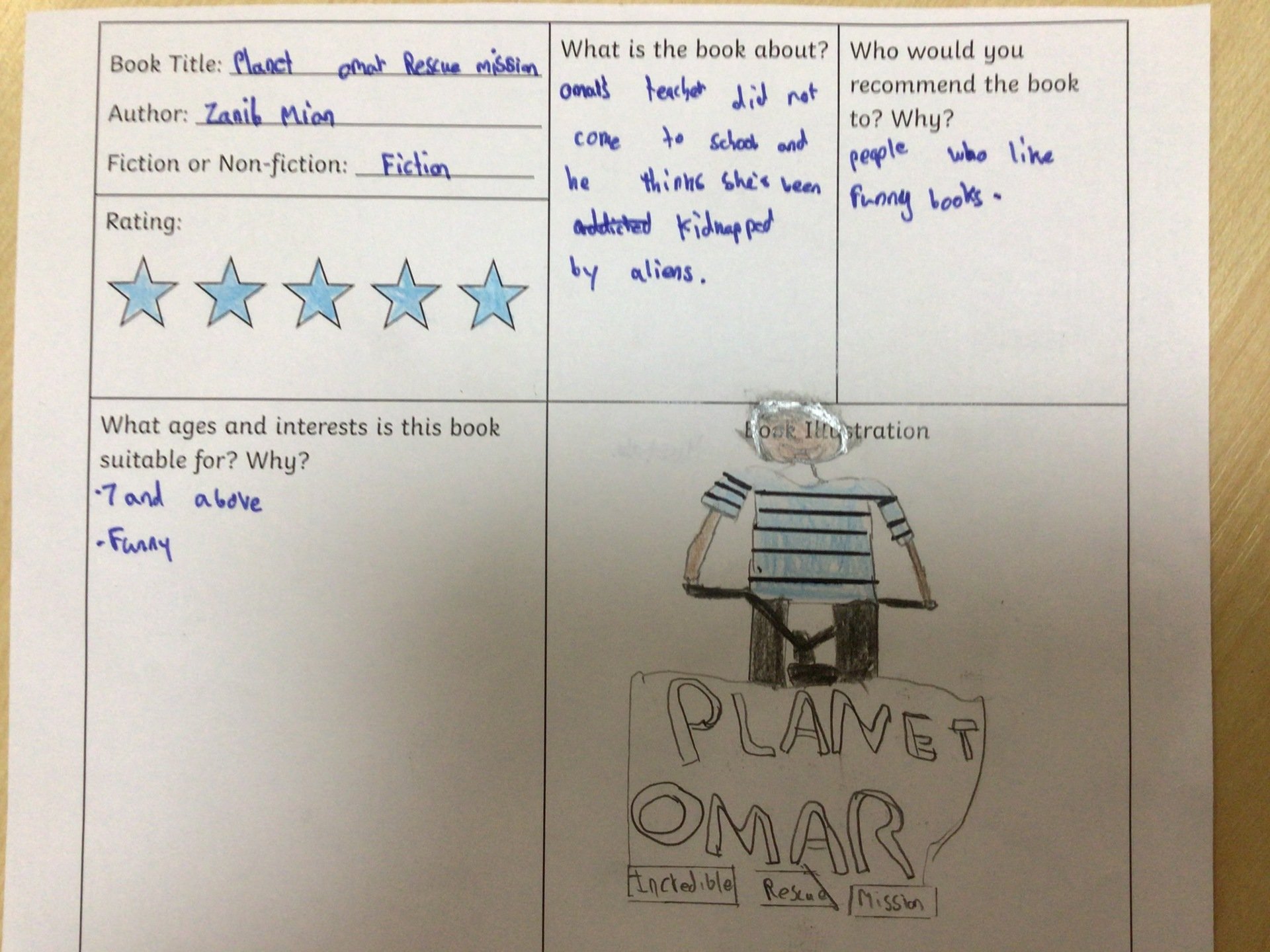 Teachers Story Time
Every day your child will listen to a story being read to them by an adult in their class. Come and listen to your teachers reading some of their favourite stories...
'Frog In Winter' read by Mrs Mottram
Grandparents Story Time
As a school we recognise that reading is an important activity for home as well as for school. In order to encourage reading for pleasure in the home, grandparents are invited to come in and read to their grandchildren in Nursery. This is a fabulous activity enjoyed by both grandparents and children.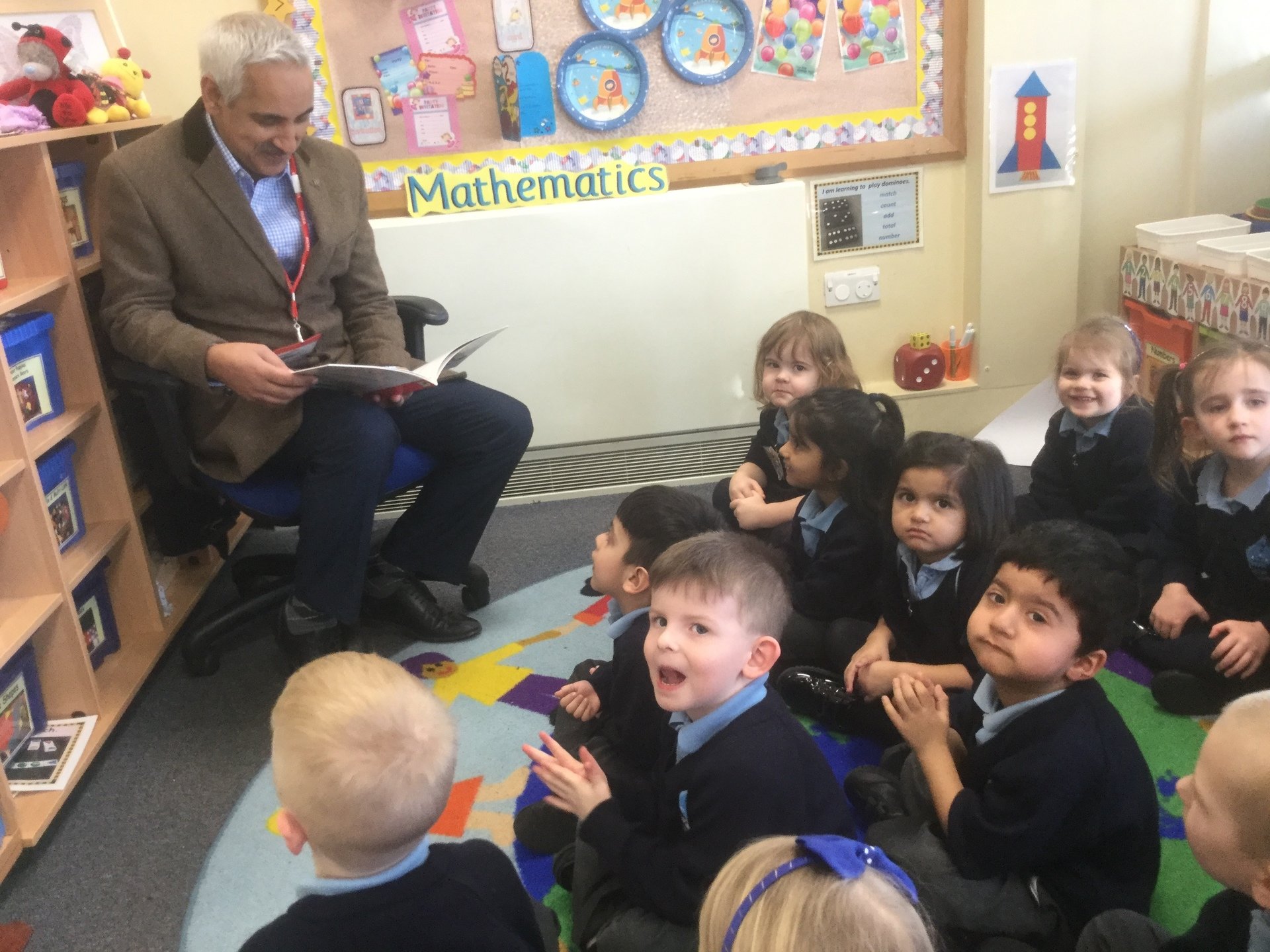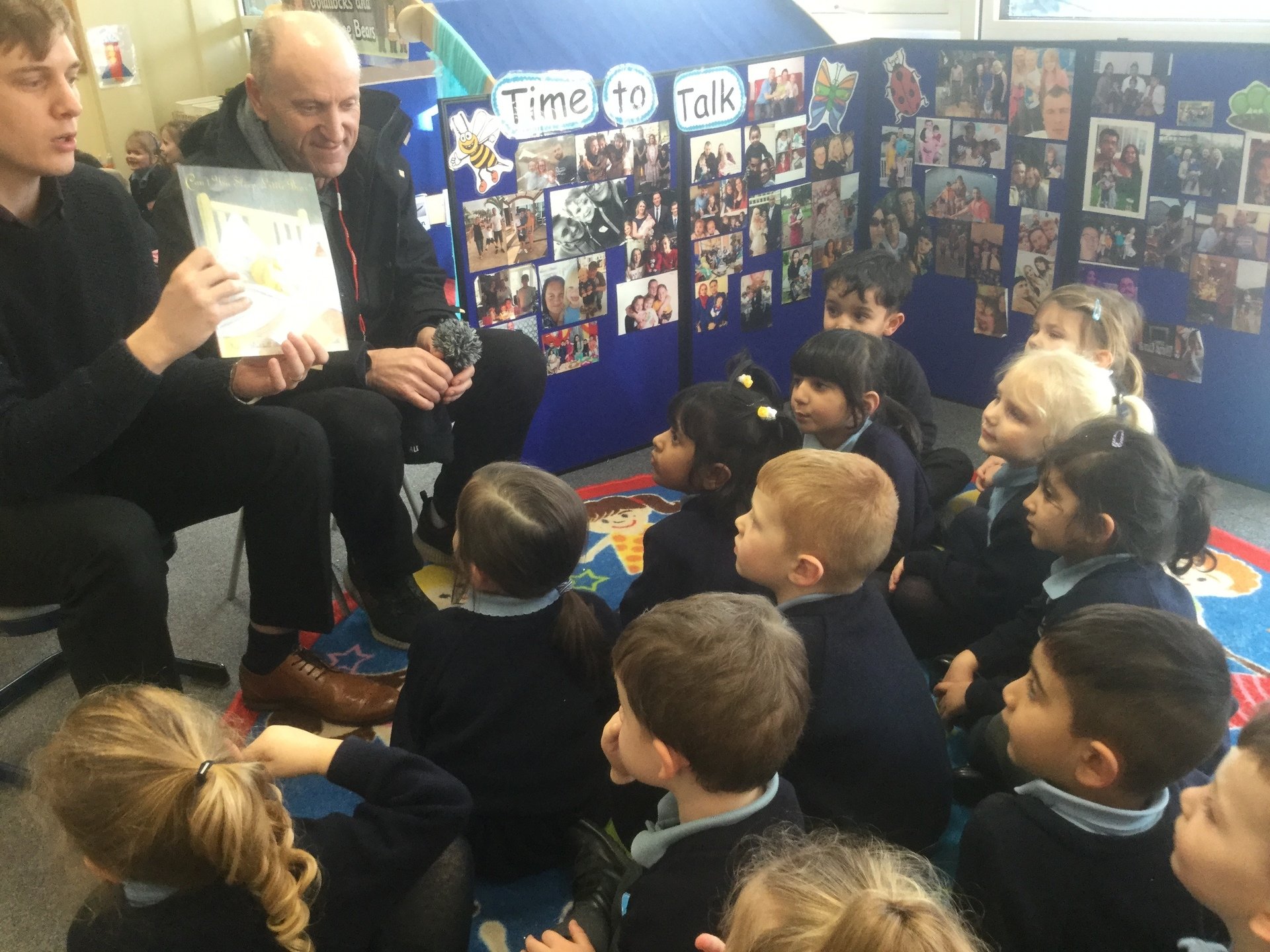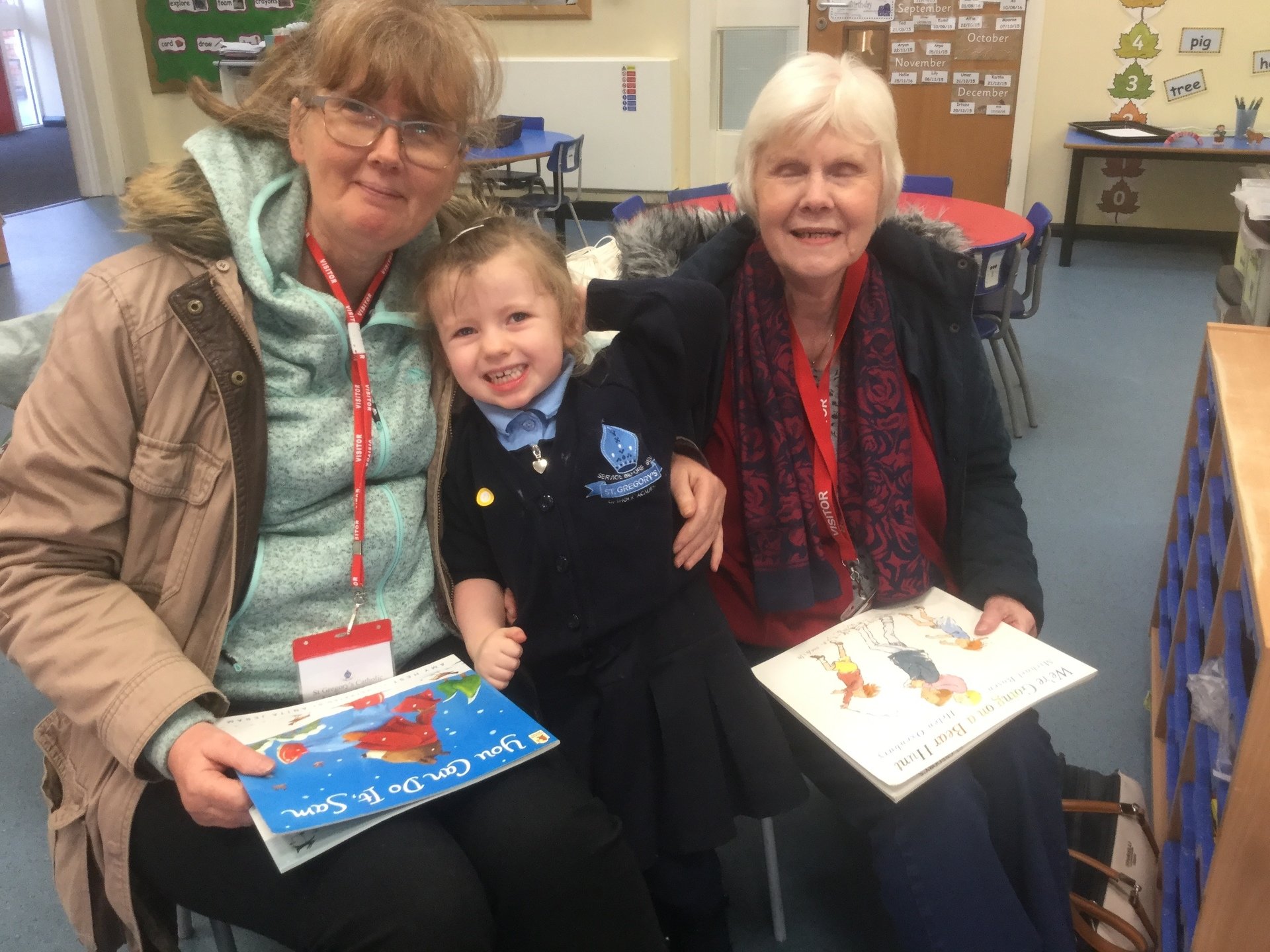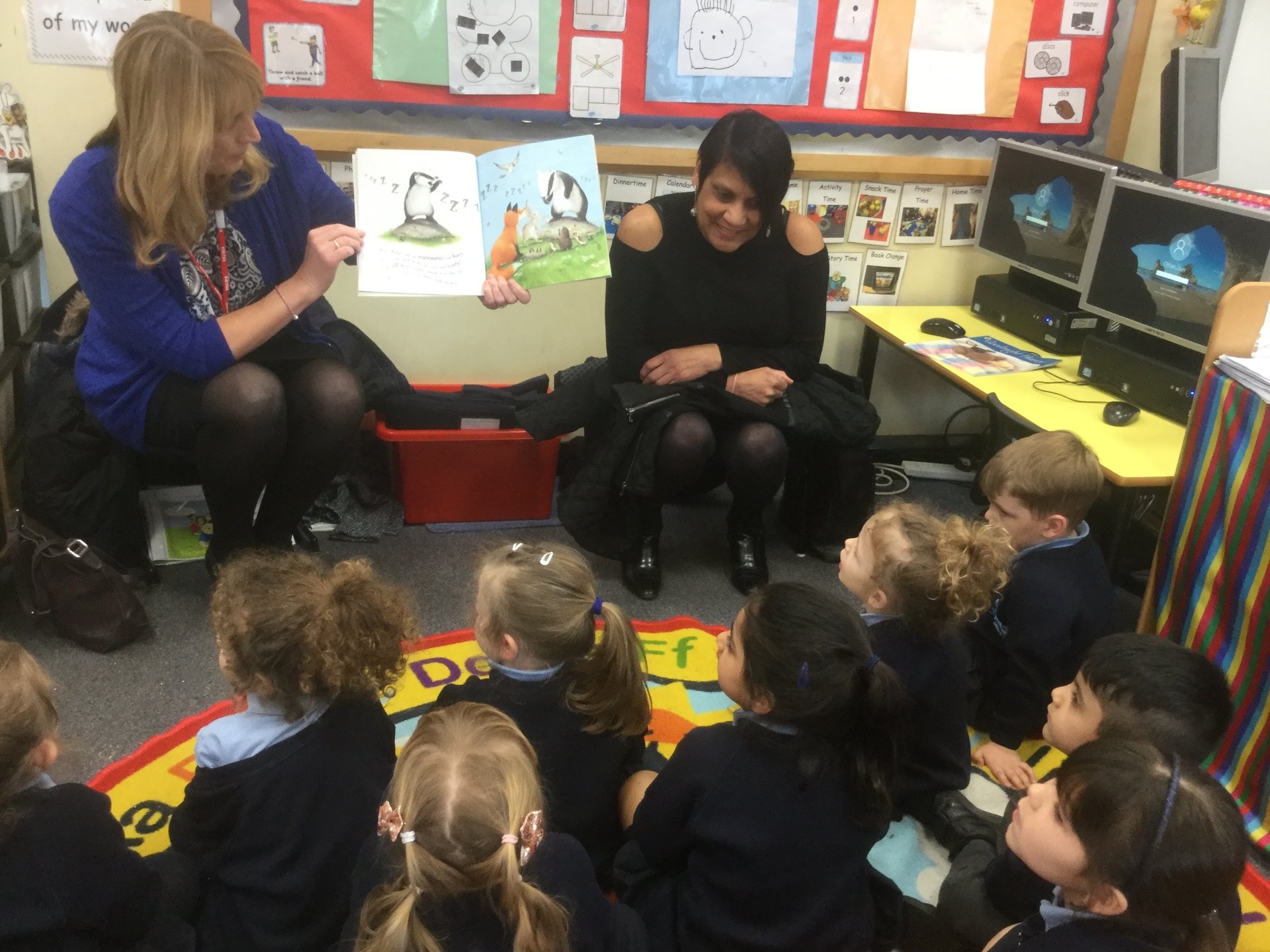 Reading at Home
There is no more important activity for preparing your child to succeed as a reader than reading aloud together. Fill your story times with a variety of books. Be consistent, be patient, and watch the magic work.
For a guide on how to read aloud with your child at home please follow the link below:
Guide to reading aloud at home
It's no secret that activities at home are an important supplement to the classroom, but there's more to it than that. There are things that parents can give children at home that the classrooms cannot give. Below are a list of story time websites and Apps to share with your children. Enjoy!
Unsure what books to read at home with your child? Click on the links below to find a recommended book list:
e-books
In order to access free eBooks to read at home follow the link below, click on Oxford Owl for home and register as a parent:
Cbbc Book Club
Every Sunday get involved with the CBBC Book Club. We want your reviews, comments about your favourite books, drawings of your favourite characters, suggestions for authors to speak to and your book selfies.
Story time
Frog in Winter (with Mrs Mottram)
Book Trust Home Time - Free online books and videos
Spoiled Brad, by David Walliams and Read by David Walliams
Coronavirus : A book for Children
Story time Apps: